I'm an unabashed fan of high definition digital music.  Once a friend sat me down in his listening studio and played some music for me off of SACD, DVD-A and Blu-Ray Audio my future became set and I had to setup my own system. Since then I've been slowly building it up and yesterday another piece of the puzzle came home. The Pono Player, which I picked up from the Kickstarter project, arrived and I was able to unbox it and give it a listen.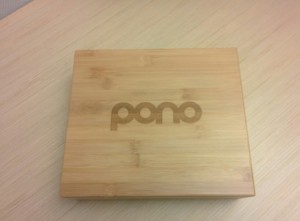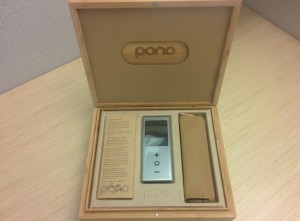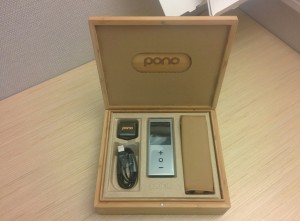 These first three images show the box which came with my Pono Player. I found it to be an attractive bamboo box and great place to store the Pono Player and its accessories on my shelf.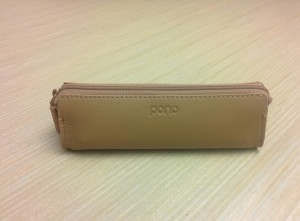 These images show the player and the leather carrying case that was included in the box. I have heard a lot of complaints about the shape of the player but after a few days of carrying it with me and using it during the day at work I had no trouble with the shape. In fact the triangle shape works great when the player is sitting on my desk. I can see what's playing on the screen and the album art behind it. It's quick to access the controls so I can press pause when someone walks up to my desk to ask a question.
That's great, Brendan but how is the sound quality?
It's amazing! I only use FLAC format audio files and I use the best mastered albums and high definition audio if I can get it. For the standard mass marketed CD using the Pono Player would be overkill and I wouldn't spend the money. However if you, like me, have a taste for the good stuff this player blows the doors off of any portable players I've heard before. Having ordered the Crosby, Stills & Nash version mine came loaded with Crosby, Stills & Nash [192 kHz 24 bit] and CSN 2012 [192 kHz; 24 bit] and Neil Young's Harvest. I have the Crosby, Stills & Nash album from an Audio Fidelity SACD release and I think I'll go pick up the original mass market CD so I can do some A/B testing for a later more detailed post about the audio quality. The version of Crosby, Stills & Nash that came loaded on my player sounds awesome. Very clean with a good dynamic range.
So far I've only found two minor issues with the Pono Player. I listen to albums not songs and so I use album shuffle a lot. So that would be a nice addition to a future firmware update. The second problem is the battery doesn't last a full day of listening. I work in an office and spend most of my time working at my desk. Sure, I could plug in a spare cable and charge it during the day but when I'm travelling I might not have that option so a larger battery capacity would be welcome.
All in all I'm very happy with the Pono Player and it has replaced my iPod and phone for my on the go listening. I would recommend the Pono Player to anyone who was interested in high definition music on the go. We spent that much collecting the high definition music doesn't it deserve a high definition player?
Next I'll perform the A/B testing with some albums and also review the sound quality of a purchase or two from the Pono Music store.